From TBT Co-Presidents Ann Rosenfield & Sheila Luber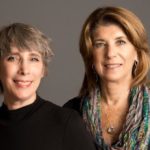 Celebrating the secular New Year provides us with an opportunity to pause and reflect, reboot and refresh who we are and what we do as individuals and as a community. Let's give grace and space for each other's words and ideas. Communicate with compassion and openness to help dampen the background noise in our politically-charged world. Say "I'm sorry" and offer forgiveness. Acknowledge what we have in common and respect our differences so that we may learn and grow in our knowledge, behaviors and relationships.
Listening is a bridge to understanding, a magical ingredient for creating productive, meaningful change. So with eyes and ears open, your Board is beginning a "listening" campaign to understand what members want from their membership in TBT. We will start this month and complete the process by June 2020 during which we will gather your insights and inputs in one-on-one meetings and small focus groups. Our goal is to start creating a long-term vision to better serve our temple members and the Central Oregon Jewish community. We will begin by collecting your candid feedback on which to build a strategic plan for our temple's growth and positioning over the next five years and beyond.
As we enter the second decade of TBT's existence, we are happy to have opened a dialogue with Congregation Shalom Bayit (CSB). Over the past year and a half, we've had numerous meetings with our sister shul's president, Dr. Ron Schutz, and recently vice president Alice Huskey. Rabbi Johanna has also joined in along with CSB's Rabbi Yossi Feintuch. It is a joy to see our rabbi express renewed energy and enthusiasm with the arrival of a new rabbinical colleague. Collaboration is in the air and we are finding ways to work together to serve our collective Jewish community while expanding our respective congregations.
In this spirit of connection and mutual benefit, Congregation Shalom Bayit is inviting members of TBT to attend a special luncheon they are hosting to welcome their new clergy leader, Rabbi Yossi Feintuch, to Central Oregon. Go to the "TBT Happenings" in your Monday morning digital inbox for details and to RSVP by January 7, 2020.
L'shalom,
Sheila & Ann