From TBT Co-Presidents Ann Rosenfield & Sheila Luber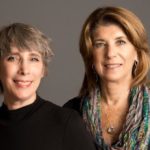 While we hunker down at home to avoid contagion and stay healthy, we are all finding incredible ways to connect with each other. Every day, we hear examples of resilience and creativity as members and their families and friends discover new avenues to enrich their lives under these unusual circumstances.
We are continuing to maintain our sense of community, strengthen our relationships and find the joy within. Thank goodness for meaningful conversations, good books, fun board games, long-overdue projects, wonderful walks and exercise, and fabulous binge-watching. Using digital platforms like Facebook, Google, Skype and Zoom plus myriad apps and websites, we are able to communicate, work, learn, and share online to bridge our separations. Happily, we are finding that in-person meetings do translate to satisfying online, interactive experiences. (Learn about TBT's virtual gatherings in this newsletter.)
Despite the coronavirus or maybe because, positivity and resourcefulness are in rich supply and show what TBT members are made of. We are grateful to be here with you in Bend. We pray for our first responders on the front lines and every citizen fighting the virus and we mourn for those who have passed. We are committed to demonstrating that physical distancing does not deter our ability to connect socially and spiritually.
Be safe and stay home.
L'shalom,
Sheila & Ann