Central Oregon's Jewish Reform Congregation
It's your community. Stay connected.
Happenings
Join Us for High Holy Days 2018/5779
It feels like we are still in the middle of summer. But, the High Holy Days are early this year, starting the Sunday evening after Labor Day.
We warmly invite you to attend Temple Beth Tikvah's beautiful High Holy Days services led by our beloved Rabbi Johanna Hershenson and accompanied by our talented musicians. There will also be children's activities, adult learning and food-filled celebrations for all to enjoy.
For more information and a list of times for our Rosh Hashanah and Yom Kippur services, please click here.
We request that everyone, including TBT members, please make reservations using our online form, which is now available from the link above. We look forward to having you join us.
Also, with the Jewish Holidays shortly upon us, we wanted to share with everyone a great program that gives young Jewish adults, 18 to 26, FREE access to over 1000 synagogues in the U.S and in 31 other countries. Whether out of state, out of the country, or simply not belonging to a synagogue, you can attend Rosh Hashanah and Yom Kippur services at no cost. If you know of a young person who would like to make use of this program please visit www.synagogueconnect.org for more information.
Dance with the Torahs at Simchat Torah
What: Simchat Torah Celebration
When: Monday, October 1st, from 6:30 – 8:30 pm
Where: Heritage Hall at the First Presbyterian Church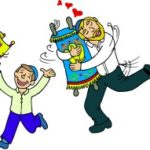 Come sing and dance with the Torah. Enjoy a sweet treat.
Music by the "3 J's" – Julie, Jo, and Jared.
Join in the fun!