Central Oregon's Jewish Reform Congregation
It's your community. Stay connected.
Shabbat Services

Join us to welcome Shabbat on Friday nights and Saturday mornings as we resume our in-person Services. For more information, click here.
Let's Join Together – Virtually!
Temple Beth Tikvah is a remarkable community of incredible individuals and we are blessed to have each other. While there is no substitute for a really big hug, we are grateful for our virtual gatherings that enable us to see each other, chat and listen, sing, pray, learn and grow. If you are unable to join us for in-person Shabbat Services, please join us online. Check our calendar for upcoming online events. If you'd like to attend any of our events, email templebethtikvah@gmail.com.
Membership Payment
You can make your membership payment here.
Order Your
Tribute Bookplates
Honor your loved ones with a beautiful bookplate capturing the character of Central Oregon. For more information and to order your bookplate for our Shabbat Mishkan T'filah and our High Holy Days prayer books, the Mishkan HaNefesh: Machzor for the Days of Awe, click here.
For Jewish families, retirees and singles at every level of faith, Temple Beth Tikvah provides a comforting embrace for the soul of your DNA.
Read more about TBT
Temple Beth Tikvah has a wealth of Jewish programming for families with children – from toddlers to teens. We greatly respect the needs of our children and feel it is important to support the families while nurturing their child's own Jewish values and growth.
Read more about our Family programming
President's Message:
From Kerrie Zurovsky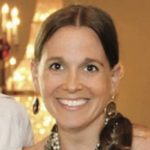 President's Message 
Kerrie Zurovsky
It has been a long while since I've written a President article. I would like to express my very heartfelt gratitude to Sharon Maier-Kennelly for reviving our monthly newsletter and editing this space where we can share stories and special occasions and remain connected to one another through this treasured communication.
Divrei Tikvah:
From Rabbi Johanna Hershenson

What a joy it is to sit at my computer to compose a message for our February, 2023, Temple Beth Tikvah newsletter! Like you, I have missed the monthly delve into what is happening in our congregation and in the lives of our members. How true it is that we often don't know how much we appreciate certain things and people in life until they're gone.