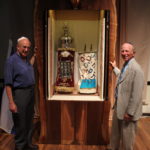 Welcome Shabbat with TBT
 In Judaism there is one holiday that occurs every week – Shabbat –  beginning at sundown on Friday and ending on Saturday evening with Havdalah, a short ceremony that separates Shabbat from the rest of the week.
Inspired by the Torah's story of God resting after creating the world (Genesis 2:1-3), Shabbat celebrates creation and offers a respite from the hectic pace of the rest of the week. Shabbat is a day of rest, and also a day of pleasure and delight. Shabbat is a time that is set aside to take notice of the wonders around us.1
We offer a variety of ways to welcome Shabbat with our TBT community.
Friday Shabbat Services
Welcome Shabbat with our Friday night activities.
At 7:00 pm our Shabbat Evening Service begins and is followed by an Oneg Shabbat socializing and sharing desserts.
Check the calendar and weekly Happenings for more dates and details.
Saturday morning Shabbat Learners Minyan
Join us and learn what the prayers mean historically, what they offer us today, and how they connect and flow in the choreography of a service. Hebrew reading skills are not necessary; the Mishkan Tefillah prayer book supplies transliteration. Open to adults and teens.
9:00 – 9:50 am  Learners Minyan
Discover new wisdom in Jewish prayer practices through a lens of what we know today about psycho-spiritual wellness. No Hebrew reading skill required!
10:00  am  Shabbat Morning service and discussion of weekly Torah portion
10:45  am Shabbat Nosh
11:15 am B'nai Mitzvah Family Learning
Check the calendar and weekly Happenings for more dates and details.