Coffee and Commentary with the Rabbi

Temple Beth Tikvah will be offering a special 4-week Torah study in August with a fresh approach. If you've been meaning to get to the weekly Torah study, but hadn't gotten started yet, this is the perfect time to begin. Study sessions will begin on Friday, August 10th, with a focus on text from Victor Frankl's – Man's Search for Meaning. Rabbi Johanna Hershenson will be leading the weekly Friday sessions from 10:00 to 11:30 am at the home of Evie Lerner.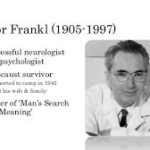 Victor Frankl, a psychiatrist, survived four Nazi Concentration camps and lost his entire family during the Holocaust. Based on his own experience and that of patients, Frankl changed what we know about human nature, arguing that our primary drive is not for pleasure, (as Freud suggested) but rather the discovery and pursuit of what we personally find meaningful. "We cannot avoid suffering but we can chose how to cope with it, find meaning in it, and move forward with renewed purpose."
Rabbi Johanna will focus on several of Frankl's key concepts, from his book Man's Search for Meaning (1984 or later), to guide each week's study discussion:
Aug 10th: Part 1 – Experiences in a Concentration Camp
Aug 17th: Part 1 – Experiences in a Concentration Camp (continued)
Aug 24th: Part 2 – Logotherapy in a nutshell
Aug 31st: Postscript 1984 – The Case for a Tragic Optimism Afterwards
For this class, we would like RSVPs from those who are planning to attend so that Rabbi Johanna can prepare and send a week-by-week PDF of the study material. While study materials will be provided, if interested, you can get a used version of his book at a very reasonable cost.
Details:
  • 10:00 to 11:30 am on Fridays, beginning August 10th, at the home of Evie Lerner
  • Coffee, tea and nosh provided
  • Pre-registration requested so Rabbi Johanna and Evie know how many to plan for and who needs the study guide
  • Please plan for a 4-week commitment. While we understand that not everyone can attend every session, we would like a regular "core" group of participants. 
For RSVP and/or host questions, contact Evie at evielerner60@gmail.com.
For questions about the study, contact Rabbi Johanna at johannahershenson@gmail.com.
Check the calendar for the current schedule. Click here for this week's parashat.