Each year at the High Holy Days we ask you to consider making a donation to support our ongoing Social Action programs. This year, the High Holy Days Tzedakah Project has designated two opportunities for tikkun olam – The Bethlehem Inn and TBT's High Holy Days Fund. These funds are invaluable to the ongoing Social Action efforts of Temple Beth Tikvah.
The Bethlehem Inn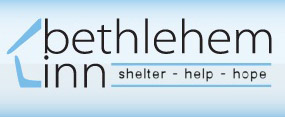 Bethlehem Inn is a nonsectarian homeless shelter providing temporary emergency shelter, help and hope for vulnerable adults and families in our community. They deliver a wide range of high-impact services that successfully enable residents to move from crisis to stability. The Inn helps residents focus on finding jobs, learning computer skills, accessing medical and behavioral health services during their average five-week stay.
CDC/Deschutes County social distancing restrictions due to COVID-19 required the Inn to reduce the number of residents served in the past year by over 50%. This resulted in 443 individuals including 46 families receiving services at the Inn. However, with social distancing restrictions waning and the opening of its new shelter in Redmond, Bethlehem Inn now has the capacity to shelter a total of 228 individuals, which includes 10 families in crisis, on any given day. This will result in a projected 1,200 individuals to be served next year.
Case management services play a large role in the success of Inn residents. During the past year over 4,000 case management meetings occurred; resulting in residents experiencing a 40% improvement in achieving the goals outlined in their individual action plans.
We ask you to please help Temple Beth Tikvah's outreach effort by donating to our High Holy Days Tzedakah drive.
TBT's High Holy Days Fund
The High Holy Days bring the largest numbers of our members together to celebrate services. They also bring the highest number of non-affiliated families into our community. The size of our congregation continues to grow, and we now live in a world where we continue to need both in-person and live streaming of HHD services. We also are bringing in an ordained Cantor to conduct High Holy Days services along with Rabbi Johanna. Your donation to the High Holy Days Fund will help us prepare for our future needs.
Click here to donate to our High Holy Days Tzedakah Projects.