[Quick Links]
Religious School Goals
Religious School Information
Hebrew School Information
Registration Information
Registration Form for 2021 – 2022
Bar/Bat Mitzvah Training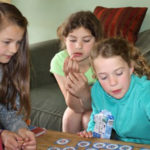 Temple Beth Tikvah offers a Community Religious School program for the Jewish children of Central Oregon. We are a coalition of parents and teachers from all of the Jewish communities in Central Oregon aligned to provide a rich and transformative Jewish and Hebrew education for the children in our congregations.
Our Community Religious School program delivers classroom education, mitzvah projects, weekly Hebrew courses and more. Students learn about Jewish holidays, customs and ceremonies, theology and prayer, ethics and values, Hebrew and Torah, Jewish history and Israel. Our teachers are knowledgeable, warm and nurturing. And they encourage curiosity, compassion and critical thinking in students of all ages.
Classes meet twice a month during the school year. Please email our education coordinator at missiewik@gmail.com for schedule information.

RELIGIOUS SCHOOL helps students: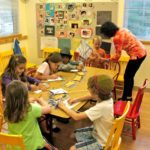 • Develop a strong Jewish identity
• Apply Jewish ethics and thought to their lives
• Recite prayers with comprehension
• Understand the rituals and meaning of Shabbat, holidays and festivals
• Participate in community mitzvah projects and adopt the practice of tzedakah
• Learn about Israel's history, geography and modern life
• Build community and connect with other Jewish students in Central Oregon

RELIGIOUS SCHOOL INFORMATION
Kindergarten and First Grade:
Oh, how our little ones enjoy their mornings at Religious School. They adore their teacher, Mimi Feldman, who is warm, enthusiastic and so much fun! And they love the time they spend with each other. (School friends also make excellent birthday guests.)
The children sing, listen to stories, learn about the Jewish holidays, and take a pretend trip to Israel, "flying" in their chairs lined up like seats on an airplane and visiting many sites of interest on the map. They perform "acts of loving kindness," or in Hebrew, gemilut chasadim, introducing them to Jewish values and the concept of social justice known as tikkun olam – "repairing the world." They get their hands dirty planting vegetables, doing Judaic craft projects, cooking potato latkes or making hummus.
Second through Seventh Grade:
Children in the upper grades study lessons from the Torah and discuss how these lessons translate into their daily lives. They practice prayer, focusing on meaning to strengthen their connection to the Jewish people and to Israel. They explore our Jewish history and the rituals and traditions of the holidays. As young Jews, they are encouraged to perform daily acts of gemilut chasadim to make the world a better place. 
HEBREW SCHOOL INFORMATION
In Hebrew School, students learn to read Hebrew and appreciate its importance as a "Holy Language" that, although dating back to ancient times, continues to connect Jewish people around the world. The curriculum incorporates a variety of teaching methods and materials, with a focus on basic reading, comprehension and writing.
Temple Beth Tikvah offers four Hebrew classes: First year, Second year, Third year and Fourth year. Most students enroll in Hebrew around eight years old or when entering third grade. They continue their studies and progress through the levels, which allows enough time for them to become proficient in Hebrew and ready to prepare for their Bar/Bat Mitzvahs.
Hebrew School meets weekly after school. Please contact our education coordinator for schedule information
REGISTRATION
For enrollment in our Community Religious School program, we request that the family support our Jewish community by affiliating and being a member of one of our congregations, either Temple Beth Tikvah, Chabad, or Congregation Shalom Bayit. Non-affiliated families are welcome with an increase in tuition.
Religious School tuition for affiliated families:
$260 First child in family
$235 Each additional child in family
*tuition includes books and materials
Religious School tuition for non-affiliated families:
$520 First child in family
$470 Each additional child in family
*tuition includes books and materials
Hebrew School tuition:
$250 Each child in family
*tuition includes books and materials
To enroll your child or children in our Community Religious School program, please complete the Community Religious School Registration Form 2021-2022.
For TBT and Chabad members and non-affiliated families, complete the online form and send your check to:
Jewish Community Religious School
c/o Temple Beth Tikvah
P.O. Box 7472
Bend, OR 97708
If you would like to pay by credit card, please click the "Donate" button below to be linked to our PayPal site for entering your credit card payment.