Rabbi Johanna Hershenson's Words of Hope

The Talmud teaches that there are four New Years. One for counting years, one for counting tithes, one for the trees, and one for counting kings.
In Temple Beth Tikvah, July is the start of our fiscal year. During the spring we carefully put our efforts into developing a robust program and securing volunteers and budgeting to bring it into fruition. This fiscal year is Temple Beth Tikvah's THIRTEENTH year in Central Oregon. It is our congregation's Bar Mitzvah Year in Jewish language.
Dayenu—It would have been enough for us, that COVID pandemic restrictions are lessening and we are increasingly vaccinated and gathering once again—what a joy that we emerge from our home bound new-normal to a significant milestone in the life of our congregation!
What does it mean to us that our Temple is entering its adolescence on the landscape of Jewish civilization? Are we meeting our mission to be a vibrant center of:
•    Torah—lifelong Jewish learning,
•    Avodah—ritual practice balanced between poles of tradition and innovation, and
•    Gemilut Chasadim—extending kindness to one another and our neighbors?
And, what's next for us? How might we choose to mature into adulthood? It is my hope, as rabbi, that reaching this milestone as a congregation becomes a topic of conversation throughout the course of the year.
We've designed our program around the Jewish values we hold dear: learning, ritual practice, and extending kindness. Take a peek at the offerings we've scheduled so far…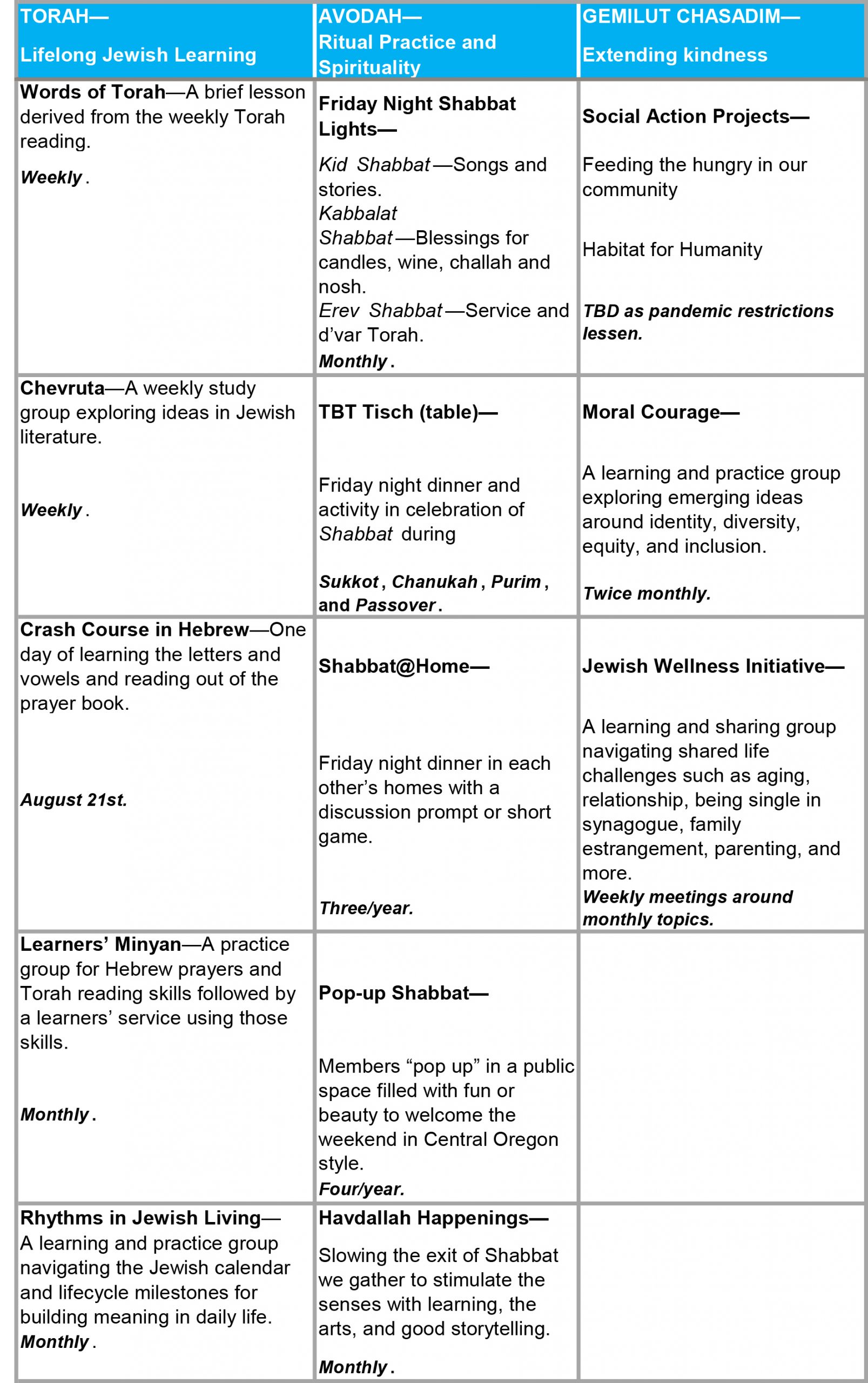 How will each of us choose to engage in our milestone year of transition from immaturity to maturity? Let's agree to give it a think while we float the river, paddle board alpine lakes, and begin meeting up with each other in backyard barbecues and summer celebrations.
I wish each and every one of us a lovely summer of connecting with family and friends and recreating—resting and playing together.
B'virkat Shalom
Rabbi's office hours are by appointment.
Click here to schedule a Zoom meeting.
Click here to schedule an in-person office meeting (115 NW Oregon Ave, Suite 26 – on second floor, stairs only)