Make PJ Library a Gift for your Children and Grandchildren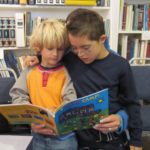 The PJ Library allows parents and grandparents to share quality Jewish children's books with the kids in their lives… free of charge. The Harold Grinspoon Foundation established the PJ Library program to provide age-appropriate books about Jewish custom, holidays, history and more, each month. What a great way for children to learn about their Jewish heritage. And in case you're wondering, "PJ" stands for pajamas, because there's nothing more delightful than reading to your child, all snuggly, in their PJs at bedtime.
If your wunderkind live in Central Oregon, click here to sign them up with your local branch of PJ Library. (Unfortunately, we can only send books to children living in the immediate area though we'd love to provide books for all of our members' children and grandchildren.)
Kids live out of state? There are more than 150 communities that sponsor the PJ Library throughout the U.S. and Canada. To see if PJ Library serves your grandchildren's area, click here and then click on the map or enter the zip code. If it does … follow the directions and register their names to receive books about Judaism each month.