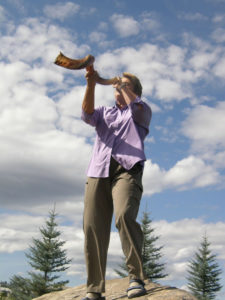 Rosh Hashanah and Yom Kippur represent two of the most important days of the year for the Jewish community. The High Holy Days are not just a celebration of the Jewish New Year but also serve as a time of contemplation, reflection and aspiration for the coming year. The theme of this remarkable 10-day period is "Teshuvah," a beautiful Hebrew word that means "to return" or "to turn around."
We've endeavored to create an experience that is as enriching and memorable as ever while finding new ways to spend time together. The 2021 High Holy Days programming allows for both virtual and physical connections. We invite you to celebrate in the diverse array of ritual and social opportunities.
Our High Holy Days Services, with the exception of Tashlich and Kever Avot, are virtual this year – live streaming of Rabbi Johanna and our musicians takes place at the service times listed below. Click here to join our Services.
We ask everyone, including TBT members, to make reservations by clicking here, or by calling TBT at (541) 388-8826. We appreciate receiving your reservations as soon as possible, but no later than Monday, August 30.
 2021/5782 High Holy Days Schedule:
This year we are providing a combination of in-person and live streamed services. Live streamed services are noted with an * below. High Holy Days services are available here for streaming on our website. Services will be live as of the times listed below and will remain active for streaming throughout the High Holy Days period.
ROSH HASHANAH
Monday, September 6th
*7:00 pm: Erev Rosh Hashanah Service
Tuesday, September 7th
*10:00 am: Rosh Hashanah Morning Service
3:00 pm: Tashlich at Pioneer Park by the river
Tashlich means "casting off." The previous year's sins are symbolically cast off by throwing pieces of bread, or a similar food item, into a large, natural body of flowing water, such as a river, lake, sea or ocean.
KEVER AVOT
Visiting gravesites to honor departed loved ones and members of the community
Sunday, September 12th
2:00 pm: Pilot Butte Cemetery
3:00 pm: Gan Shalom, Deschutes Memorial Garden Cemetery
YOM KIPPUR
Wednesday, September 15th
*7:00 pm: Kol Nidre Service
Thursday, September 16th
*10:00 am: Yom Kippur Morning Service
*11:45 am: Yizkor Memorial Service
*3:00 pm: Adult Learning and Discussion – via Zoom
How do I access HHD live streamed events?
For links to live streamed services, check your inbox for the weekly Happenings on Wednesdays or special HHD emails from Temple Beth Tikvah or click here to join our live streaming. If you need additional help to access our services and events, please email Program Coordinator, Lauralei Garrity at lauralei.garrity@gmail.com.
High Holy Days Reservation Information

For our virtual High Holy Days programming, confirming your participation doesn't really require a reservation. Rather, we invite you to affirm your personal commitment to participating in this special High Holy Days by indicating which services and events you plan to take part in. By sharing your commitment, you help us weave a web of togetherness across TBT at a time when we need it most. It may seem small, but knowing our friends and loved ones are participating alongside us impacts our sense of community in a big way. Reservations are required for our in-person Tashlich service.
Click here to make your reservations.
Yizkor Memorial Booklet
Each year we assemble a Yizkor Memorial Booklet to honor departed loved ones. If you have names to include, please complete the Yizkor section on our reservation form. A donation amount of $36 entitles you to as many names as you wish.
Deadline: Names and payment for our Yizkor Memorial Booklet are due by Monday, August 30th.
To complete the form for Yizkor click here.
High Holy Days Tzedakah Fund Appeal

Each year at the High Holy Days we ask you to consider making a donation to support our ongoing Social Action programs. This year, the High Holy Days Tzedakah Project has designated two opportunities for tikkun olam – The Giving Plate and TBT's High Holy Days Fund. These funds are invaluable to the ongoing Social Action efforts of Temple Beth Tikvah.
The Giving Plate
Imagine not knowing when or where you'll find your next meal? Every month the Giving Plate provides food to more than 3,500 individuals across Deschutes County through three hunger-relief programs serving low-income families, children and the elderly. All donations matter whatever the amount when you help someone whose belly is empty. Please consider even a small contribution or a generous one if you can to deliver peace of mind to those in need.
TBT's High Holy Days Fund
The High Holy Days bring the largest numbers of our members together to celebrate services. They also bring the highest number of non-affiliated families into our community. The size of our congregation continues to grow, and we now live in a world where we may continue to need both in-person and live streaming of HHD services. We also recognize that we may eventually have to bring in a Cantor to conduct High Holy Days services along with Rabbi Johanna. Your donation to the High Holy Days Fund will help us prepare for our future needs.
Click here to donate to our High Holy Days Tzedakah Projects.
Health Safety
Everyone's health safety is our highest priority. TBT is requiring all members and guests attending any of our in-person services to wear face coverings.