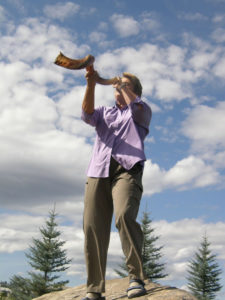 Join Us For High Holy Days 2022/5783
[QUICK LINKS]
Make Your HHD Reservation
The Meaning of the High Holy Days
Temple Beth Tikvah welcomes everyone to join us for High Holy Days services, children's activities, adult learning and food-filled celebrations. Click here to make your reservation.
Rosh Hashanah and Yom Kippur represent two of the most important days of the year for the Jewish community. The High Holy Days are not just a celebration of the Jewish New Year but also serve as a time of contemplation, reflection and aspiration for the coming year. The theme of this remarkable 10-day period is "Teshuvah," a beautiful Hebrew word that means "to return" or "to turn around."
Rabbi Johanna Hershenson will lead our High Holy Days Services accompanied by Cantor Adelle Nicholson and joined by Julie Geveshausen and Jo Booser.
We've endeavored to create an experience that is as enriching and memorable as ever while finding new ways to spend time together. The 2022 High Holy Days programming allows for both virtual and physical connections. We invite you to celebrate in the diverse array of ritual and social opportunities described below.
High Holy Days Schedule 
This year we are providing a combination of in-person and live streamed services. Live streamed services are noted with an * below. In-person services are held in the Main Sanctuary of the First Presbyterian Church, 230 NE Ninth Street, Bend.
ROSH HASHANAH
Sunday, September 25th
*7:00 pm:    Erev Rosh Hashanah Service followed by sweet table reception
Monday, September 26th
*10:00 am:  Rosh Hashanah Morning Torah Service
4:00 pm:    Tashlich Ceremony at Pioneer Park
Tashlich means "casting off." The previous year's sins are symbolically cast off by throwing pieces of bread, or a similar food item, into a large, natural body of flowing water, such as a river, lake, sea or ocean.
YOM KIPPUR
Tuesday, October 4th
*7:00 pm:    Erev Yom Kippur Kol Nidre Service
Wednesday, October 5th
*10:00 am:  Yom Kippur Morning Torah Service
12:30 pm: Adult Learning & Discussion (at conclusion of Morning Service)
3:00 pm:    Interactive Family Service
4:00 pm:    Yizkor Memorial Service to remember loved ones that have passed
5:15 pm:    Neilah Concluding Service with the Final sounding of the shofar
Click here to make your reservations for the High Holy Days.
KEVER AVOT  Visiting gravesites to honor departed loved ones and members of the community
Sunday, October 9th
2:00 pm:    Pilot Butte Cemetery
3:00 pm:    Gan Shalom, Deschutes Memorial Garden Cemetery
High Holy Days Reservation Information
We are pleased to have you join Temple Beth Tikvah for our High Holy Days Services this year. Our services are open and welcome to anyone wishing to worship with us. For planning purposes, if you wish to attend any of the services, please click here to complete our registration form. We greatly appreciate receiving your reservation by Monday September 19th.
HHD Charges: There is no charge for Temple Beth Tikvah members or students to attend High Holy Days Services. If you are not a current Temple Beth Tikvah member and wish to attend any, or all, of the High Holy Days Services, we respectfully request a minimum donation of $150 per adult or $250 per family to help defray expenses. Of course, additional donations to mark the High Holy Days are always appreciated!
If the donation request does not fit your circumstances, please contribute what you can by entering that amount at the appropriate place on the form. Your financial information is strictly confidential.
Yizkor Memorial Booklet: Each year we assemble a Yizkor Memorial Booklet to honor departed loved ones. These printed booklets are distributed at the Yizkor service on Yom Kippur afternoon and names of those who died in the previous year are read aloud. If you have names to include, please complete the Yizkor section of the reservation form. A donation amount of $36 entitles you to as many names as you wish. Deadline for our Yizkor Memorial Booklet is now past.
Payment deadline: Payments are due from non-members by Monday, September 19th.
Non-members who join Temple Beth Tikvah in 2022 will have their High Holy Days donation amount applied toward membership. We warmly welcome your participation.
About reservations: Only one reservation per family is needed. If you have any questions, please call 541-388-8826 and leave a message with your name and phone number, or e-mail templebethtikvah@gmail.com and a representative of Temple Beth Tikvah will promptly get back to you.
Click here to make your reservations for the High Holy Days.
High Holy Days Donation Appeal
Please join us in supporting our donation appeal during the High Holy Days. We appreciate your contributions during this season of giving and are offering two opportunities for you to give.
Bethlehem Inn:
Bethlehem Inn is a nonsectarian homeless shelter providing temporary emergency shelter, help and hope for vulnerable adults and families in our community. They deliver a wide range of high-impact services that successfully enable residents to move from crisis to stability. The Inn helps residents focus on finding jobs, learning computer skills, accessing medical and behavioral health services during their average five-week stay.
CDC/Deschutes County social distancing restrictions due to COVID-19 required the Inn to reduce the number of residents served in the past year by over 50%. This resulted in 443 individuals including 46 families receiving services at the Inn. However, with social distancing restrictions waning and the opening of its new shelter in Redmond, Bethlehem Inn now has the capacity to shelter a total of 228 individuals, which includes 10 families in crisis, on any given day. This will result in a projected 1,200 individuals to be served next year.
Case management services play a large role in the success of Inn residents. During the past year over 4,000 case management meetings occurred; resulting in residents experiencing a 40% improvement in achieving the goals outlined in their individual action plans.
We ask you to please help Temple Beth Tikvah's outreach effort by donating to our High Holy Days Tzedakah drive.
TBT's High Holy Days Fund:
The High Holy Days bring the largest numbers of our members together to celebrate services. They also bring the highest number of non-affiliated families into our community. The size of our congregation continues to grow, and we now live in a world where we continue to need both in-person and live streaming of HHD services. We also are bringing in an ordained Cantor to conduct High Holy Days services along with Rabbi Johanna. Your donation to the High Holy Days Fund will help us prepare for our future needs.
Click here to donate to our High Holy Days Tzedakah drive.