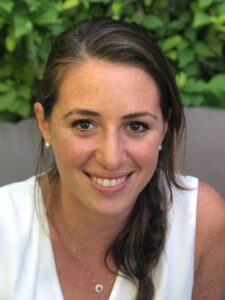 Samantha Winter is a classically-trained, Jewish soprano currently living in Bend, OR with her fiancé, Andrew, and dog, Duke. Originally from Washington, DC, Sam studied vocal performance and neuroscience at the University of Michigan, where she held leading roles in a number of operas, operettas, and oratorio works — the most memorable of which as a soprano soloist for the 2nd world debut of "Mass Transmission" (Mason Bates) with the San Francisco Symphony Orchestra. Recently, Sam has been studying voice with Jackie Kreitzer and performing across Bend, most recently as the Soprano Soloist for Handel's Messiah at the Tower Theatre.
Deeply connected to her Jewish heritage, Sam has been leading Shabbat and High Holiday services, reading Torah / Haftarah, and leading Seders for much of her life. Passover, especially, has a special place in her heart — evoking smells of her grandmother's kitchen in Long Island, New York, and memories of her cousins inventing full-contact, bed-jumping games with rules named after the items on the seder plate.
Outside of singing, Sam is a neuroscientist by training, works as the Director of User Experience at a health AI company that aims to reduce death and disability from life-threatening diseases (Viz AI), and is an avid runner and lover of all things outdoors.